Overview
First Majestic acquired the Jerritt Canyon Gold Mine in 2021.

The Jerritt Canyon property contains 30,821 hectares of mining claims located in the mining friendly state of Nevada. The Jerritt Canyon deposit was discovered in 1972 and first gold production from the property occurred in 1981.

Open pit mining was conducted from early 1981 until late 1999, with the mining carried out in the areas of Marlboro Canyon, Alchem, Lower North Generator Hill, Upper North Generator Hill, West Generator, Burns Basin, Mill Creek, Pattani Springs, California Mountains, Dash, Winters Creek, Steer Canyon, and Saval Canyon. Underground operations started in 1997 at SSX, and continued until 2008 with production from the Steer, Murray, Marlboro Canyon East, Smith, West Generator, and Saval deposits.

Since the start of mining at Jerritt Canyon, approximately 9.8 million ounces of gold have been produced over it's 40+ year history.

In March 2023, the Company temporarily suspended mining operations due to several ongoing challenges such as inflationary cost pressures, contractor inefficiencies, lower than expected head grades and multiple extreme weather events. The Company will continue exploring both near-mine and prospective regional greenfield targets to grow Jerritt Canyon's resources, which are believed to significantly enhance the economics for the eventual restart of operations.
Going forward, the Company will focus on the following:

• Explore for new regional discoveries and expand current known reserves and resources.
• Analyze the optimization of bulk mining and cost-effective mining methods.
• Conversion of inferred and indicated resources into measured resources.
• Reduce mining costs through adopting self-perform mining and improve contractor rates and terms.
• Continue modernizing the processing plant to be able to better withstand severe weather conditions.
Stage
Exploration & Development
2023E Production
TBA - (pending updated guidance)
2023E All-In Sustaining Costs
TBA - (pending updated guidance)
Proven & Probable Reserves
440K AU OZ
Measured & Indicated
1,604K AU OZ
Location
The Jerritt Canyon Gold property is located in Elko County, northeastern Nevada. The mill site, shops, and administration and security buildings are located approximately 45 miles north of the town of Elko. The property forms an irregular area that extends approximately 21 miles north-south and 17 miles east-west at its widest and is approximately 119 square miles. The property is bounded by 116° 10' west and 115° 78" west longitude and 41° 23' north and 41° 46' north latitude.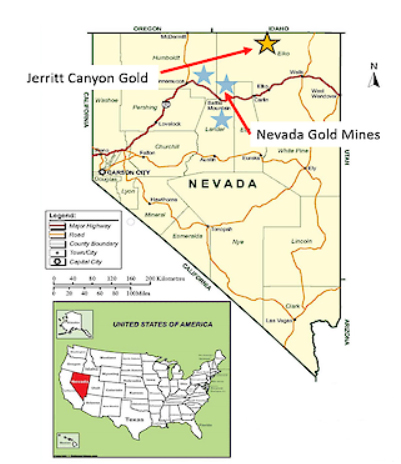 Operating Highlights
Jerritt Canyon Production Results
2022
2021*
Ore Processes/Tonnes Milled and Leached
804,206
633,400
Gold Ounces Produced
72,483
68,567
Average Gold Grade (g/tonne)
3.42
3.84
Gold Recovery (%)
82%
84%
Total Production – Ounces Silver Equivalent
6,022,118
5,013,999
Underground Development (m)
9,614
3,916
Diamond Drilling (m)
130,322
48,670
* from April 30 – Dec. 31, 2021
Geology and Mineralization
The Jerritt Canyon Gold District is located in the Great Basin, north and northeast of the Carlin Trend of gold deposits. Carlin-type gold mineralization at Jerritt Canyon is hosted by silty carbonate or carbonaceous siliciclastic rocks originally deposited as shelf sedimentary rocks during the Paleozoic Era. The Paleozoic host rocks have been imbricated, faulted, and folded through several orogenic events through the Paleozoic Era and Mesozoic Era. Carlin-type gold deposits were emplaced in the Middle to Late Eocene period during an initial phase of extensional tectonics at which time high potassium calc-alkaline magmatic rocks were emplaced. Mafic dikes were emplaced during this phase of igneous activity and trend north-northeast and west-northwest.
The occurrence and distribution of gold mineralization at Jerritt Canyon is controlled by both lithology and structure. Deposits at Jerritt Canyon are mostly stratabound or fault hosted. Gold occurs as very fine, micron-size, particles in pyrite and arsenian pyrite.
For more detailed geological information readers are encouraged to review the Company's most recent NI 43-101Technical Report (PDF).
The Reserves/Resources inventories are reported in NI 43-101 Technical Reports published periodically by the Company. The complete report can be viewed in the Reserves/Resources section or on SEDAR
Mining and Processing
All underground mines in Jerritt Canyon are less than 1000 feet in depth. Low profile 35 and 40-ton tractors are used to remove ore, which is then stacked near the mine portals for grade sampling. After sampling, ore is transported by 150-ton haul trucks to the mills, where the feed is dried and roasted. Gold is recovered using conventional carbon-in-leach processing. High quality gold bars are then shipped for commercial refining and sale.
The mineral processing operation at Jerritt Canyon is one of only three processing plants in Nevada that uses roasting in its treatment of refractory ores. Initially, Jerritt Canyon was designed to process oxide and mildly refractory gold ores. In 1989, the roasting circuit was added to the process for the treatment of highly refractory ores which are now being mined and processed at Jerritt Canyon.
The milling process begins with crushing run of mine (ROM) ore to minus five inches in a 42 inch x 48 inch jaw crusher. The crushed ore is then conveyed to a gas-fired drier where the crushed material is dried to about 1% moisture. The dried ore is then conveyed to the secondary crushing circuit, which consists of a single 4.25 foot Symons standard cone crusher operated in open circuit.
The crushed ore is then advanced to the tertiary crushing circuit, which consists of two Symons 4.25 short head cone crushers operated in closed circuit with vibrating screens to produce a minus 3/8 inch product, which is then conveyed to a 2,000 ton fine ore bin that feeds the dry grinding circuit. The dry grinding circuit consists of a 18.5 foot diameter x 14.5 foot long Fuller grate-discharge ball mill driven by a 2,500 hp motor and operated in closed circuit with a Fuller O'Sepa air classier to produce a final ground product sized at about 80% passing 105 microns, which is stored in a 2,000 ton roaster feed bin.
The ore roasting circuit at Jerritt Canyon consists of two Dorr-Oliver two-stage fluid-bed roasters, each rated at 2,000 stpd. Ore is withdrawn from the feed bin by a variable speed screw feeder and lifted with a bucket elevator to the roaster feed system and dropped into the roaster. The roasting process almost completely destroys all of the refractory constituents which makes cyanidation more effective.
The fluid-bed roasting system has no moving parts and can generally be operated at high availability. The use of oxygen as opposed to air as the fluidizing-combustion gas reduces the size of scrubber and achieves high conversions of sulfides and carbon at lower combustion temperatures than would be required by traditional air roasting.
After the ore exits the roaster it drops into quench tanks. The solution is then pumped to a thickener prior to advancing to the CIL cyanidation circuit, where the gold is leached and recovered using procedures standard to the industry.
High quality gold doré bars are then shipped for commercial refining and sale.
Technical Report On The Jerritt Canyon Mine, Elko County, Nevada, USA – April 30, 2021